Blog
Subscribe to posts
Public Wi-Fi:

 How to Secure Your Data in 10 Minutes
20 Methods to Tighten Up Your Security On Public Wi-Fi
Andrey Doichev
Mar 21, 2017
Ever felt uneasy doing your online banking in your favorite coffee shop?
Me too.
Are you sure you want to hit "buy" on that chic blue and black (or was it gold and white?) dress, exposing your credit card details to cyber criminals who may be watching?
Think again.
I don't blame you if every time you log onto social media, on public Wi-Fi, you worry if some hacker is about to steal your password.
My friend, you're not alone.

Would you like one of these ?
Re post 
A recent flurry of announcements from networking equipment vendors — including Belkin, Buffalo and Netgear — heralds the imminent arrival of the next generation of Wi-Fi products to the UK market. Incorporating many of the design features of 802.11n, the new 
802.11ac
 standard, which is still not formally ratified, uses wider frequency bands and other tricks to deliver speeds (or more accurately, physical layer link rates) up to a theoretical maximum of 3.5Gbps. All the products mentioned here are based on chipmaker Broadcom's range of 802.11ac silicon.
The base specification of 8
02.11ac, which is a 5GHz-only technology, mandates support for 20MHz, 40MHz and the 802.11ac-specific 80MHz channels,
64 QAM modulation plus a single spatial stream to provide speeds up to 293Mbps. Optionally, there can also be a 160MHz channel (80+80MHz non-contiguous or a single contiguous 160MHz), up to 256 QAM and 8 spatial streams to give the full 3.5Gbps potential. The optional short guard interval of 400ns (the standard is 800ns) gives further room for tweaking product capabilities, so we can expect to see plenty of confusion in the marketplace as consumers try to get their heads around the options. 
Assuming 80MHz channels, 256 QAM and short guard intervals, a single-stream device can operate at
433Mbps
. Dual streams increase this to 867Mbps and triple streams enable 1.3Gbps. With 160MHz channels, these rates are, unsurprisingly, doubled.
The question of what happens to performance when both your neighbour and yourself try to occupy the full 160MHz available on the European 5GHz band remains to be seen. However, 802.11ac does allow the use of multi-user MIMO (MU-MIMO) and beamforming to direct data streams more precisely at multiple clients. All 802.11ac devices are fully backwards-compatible with the 802.11n and 802.11a standards. For the foreseeable future, routers are likely to be dual-band, containing a legacy 802.11n 2.4GHz radio.
Buffalo Technology
was one of the first to announce an 802.11ac router, showcasing a prototype at the Consumer Electronics Show in January 2012. Its AirStation WZR-D1800H is on sale in the US, costing around $180, but the company has yet to announce its UK products or launch schedule.
Netgear's flagship R6300 802.11ac router handles up to 1.3Gbps on the 5GHz frequency band
Netgear has announced two routers,
the R6300 and the R6200, plus a USB client adapter, the A6200. The R6300 was actually announced back in April, and again is already on sale in the US for about $200. Expected to arrive in the UK in autumn 2012, the R6300 features a 3-stream 802.11ac implementation, with speeds of up to 1.3Gbps on the 5GHz band. It also has a 3-stream 802.11n radio on the 2.4GHz band to give up to 450Mbps speeds. The R6200 is a lower-cost dual-stream device that provides 802.11ac speeds up to 867Mbps and dual-stream (300Mbps) 802.11n speeds on the 2.4GHz band. The A6200 adapter has the same performance capabilities as the R6200. The R6200 and A6200 will launch in the US in the third quarter of 2012, but Netgear could not confirm any UK launch dates.
The Netgear R6200 and A6200 USB client adapter
Belkin has also announced that it will be launching consumer 802.11ac products
. However, it has yet to reveal details of the new range beyond a reference to 1.3Gbps speed, so presumably a triple-stream device will form part of the lineup. The company says that the new products will be available in Europe during August 2012.
Re post 
Wi-Fi hotspot access just got easier for high-speed Internet customers of Bright House Networks, Cablevision, Comcast, Cox Communications, and Time Warner Cable. The five cable giants announced an agreement Monday to make more than 50,000 hotspots in several U.S. cities available for free to each company's customers.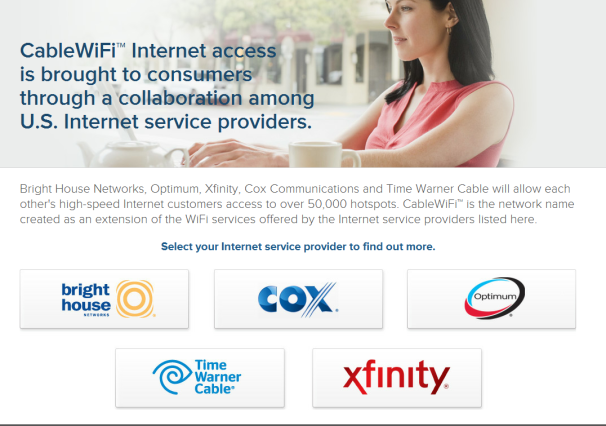 The new free Wi-Fi hotspots will operate under a new name called "CableWiFi" instead of using the separate names for each company's hotspot networks. The new network brand is rolling out now, but it will take a few months to reach all the hotspots that are part of the new agreement. CableWiFi is already live in the New York City area and central Florida for Bright House and Cablevision hotspots.
Free Wi-Fi hotspots will be available in New York City and the surrounding Tri-state area, Los Angeles, Tampa, Orlando, and Philadelphia. Other cities may also be added to the free Wi-Fi deal in the coming months.
The new hotspot agreement should go a long way to helping alleviate the pain of mobile bandwidth caps that are the current trend among most major U.S. mobile device carriers. Users covered by the CableWiFi agreement will be able to grab free Wi-Fi at coffee shops, hotels, restaurants, and bars instead of using up their precious monthly data allotments from AT&T, T-Mobile, and Verizon.
But with this ease of access may come new security problems for users. Make sure that CableWiFi access points are the genuine deal and not imitators looking to harvest data from your laptop. You should also try to use a virtual private network (VPN) whenever possible such as the free serviceHotSpot Shield from Anchor Free. And always sign-in to Webmail and social networking accounts using SSL encryption. For more tips check out PCWorld's guide How To Stay Safe on Public Wi-Fi.
Connect with Ian Paul (@ianpaul) on Twitter and Google+, and with Today@PCWorld on Twitter forthe latest tech news and analysis.
Dear Nguyen  ( Criss Cross Connections ) , Thank you for Joining AsOneForce.
Regarding national projects and your interest.
1-
We already built a portal to get lead for national projects . Click on 
http://www.asonesource.com
 and watch the embedded video . 
2- Or type ;   rollout planning  or      rollout plan  or          nationwide network consulting    in Google search and you see we already  have started marketing to get our community members projects nationwide  . We are on the 1st page with our video SEO
3-
You or  our community members,  alone can not walk in to a large national company ( I.e taco bell )  and  claim,  we can manage their national  projects . They want to see business model , project model, experience, cash flow , finance ...  and strength , however  ( 
http://www.asoneforce.com/networking/ideation
 ) 
We can collectively " As-One-Force " can bypass the corporate ladder and access to large national project   and  No longer we do not  have to hope to get our  foot in the door of some large corporation and slowly work our  way up the long corporate ladder.  Expert sourcing eliminates doors and ladders.  It is a "Meritocracy".....  The company with the best solution and network wins.

Medium and small IT deployment and installation business ( us ) due to budgetary constrains and large local and nation wide businesses due to current economic environment do not have the require resources to start and maintain their continues innovations and clearly without innovation there is no growth and expansions. We also know expansion without innovation and control can bring disaster ( Gulf oil spill ).

"If you do not participate the change management and growth that looks after the future , the future will not look after you "
4- You also need to invest in your marketing and get your own domain and better website representing you and your potentials .  Gmail account does not cut it, one page website means you are a very small operation. Is this what you want your clients to see )  
And ask for the following they are expert in network cabling website . Ask for few samples . They use Google sites, thus you can do your own 
updates
 effortlessly and 
there
 is no  web hosting fee with Google. 
David Khorram
Community manager 
The world's largest IT deployment 
ExpertSourcing platform.
With access to thousands of experienced, licensed & 
trained 
installers worldwide, our technology platform offers quality
assured ExpertSourcing at an unprecedented scale worldwide.
As-One-Force Technology Expert sourcing Portal, an ecosystem for harnessing a new mode of business production and information sharing to take innovation and wealth creation to new levels.